Excavation Services
Whether you're a homeowner or a business owner looking to take up a new construction project, you can rely on the qualified team at A.C.G Excavation  for superior excavation services.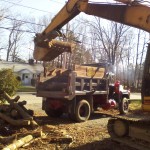 Expect quality workmanship and a quick turnaround time from our professional contractors.
Septic System Installation
Not just excavation work, you can also trust our experienced staff to install a quality septic system on your property. We also specialize in water & sewer line services.
We install leach fields, new septic tanks, pump chambers and anything else to have your septic system working properly. We provide repair on all septic systems for both residential and commercial properties.