Snow Removal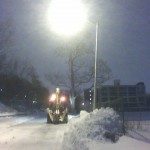 Snow removal services can be customized to fit your level of need. We have the equipment to accommodate any residential, or commercial client, while providing the best possible solution in the area. From a simple application of sidewalk ice melt product to broad scale plowing of driveways & parking lots, we can provide the equipment and skilled teams to handle the challenges of winter weather.
WHEN BAD WEATHER HITS, YOU DON'T HAVE TO WORRY
There are other aspects to snow removal other than just plowing. A.C.G Excavation & Construction Services can also remove snow piles from your property if the snow hits in large amounts. We also do roof raking and removing snow off of your home or business to prevent ice dams.