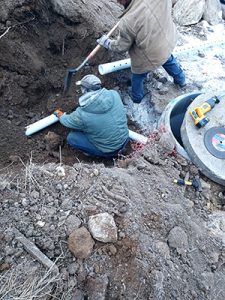 Customer satisfaction and quality are what we strive for above all else. Whether we're landscaping your dream home, caring for your trees, maintaining your lawn or giving your business a manicured professional edge. We can do it all !!
Construction Services provides the following services:
Construction
Electrical Lines
Excavation
French – Curtain Drains
Gas Lines
Pads & Footings Constructed
Perk Test
Perimeter Drains
Trenching
Water Sewer Lines
Land Management:
Access Roads Brush Clearing
Lot Clearing
We also offer Free Consultations with our operations manager. He can meet with you at your property to discuss your plans, offer professional insight and suggestions. He can also provide an estimated cost for making your plan a reality.
A.C.G. Excavation & Construction Services is committed to providing quality and prompt professional service to our Commercial and Residential clients. Our company is experienced in various areas including:
Above and Below Ground Pools
Backhoe Services
Backhoes
Basements
Bobcat Backhoe Services
Brush Cutting
Bulldozers
Bush Hogging
Catch Basins & Traps
Concrete
Confined Space Entry
Construction
Consultations
Contracting
Culverts
Curbing
Demolition
Design Services
Digging
Drainage Solutions
Drainage Systems
Driveways
Driveways with Pavers
Dry Wells
Dump Trucks
Engineering Available
Power Washing
Precast Septic Tanks
Pressurized Systems
Railroad Ties
References
Removal & Disposal
Repairs
Replacements
Restoration
Retaining Walls
Rock Walls
Same Day Service
Sand & Gravel
Seasonal Service
Seeds
Senior Discounts
Septic Systems
Septic Systems and Tanks
Septic Tank Location
Sewer Hookups
Sewer Lines and Sewer Systems
Shrubs
Sinkholes
Snow Removal
Soil & Sod
Stone
Stump Removal
Tank Emptying
Terracing
Tree Removal
Tree Root Removal
Tree Trimming
Trees
Trenching
Underground Utilities
Warranties & Guarantees
Water Features
Water Lines
Specialties
Erosion Control
Estimates
Excavations
Failed Leach Field Restoration
Fencing
Fertilization
Fiberglass Septic Tanks
Fill
Fire Pits
Foundations
Free estimates
French Drains
Grading
Grading & Leveling
New grass
Hauling
Holding Tanks
Inspections
Land Clearing
Landscape Consulting
Landscape Planning
Landscaping
Lawn care
Leach Field Line Shocking
Lot Clearing
Maintenance
Mulch
Mulching
New Lawn Seed and Sod
Parks & Recreation Design
Paths & Walkways
Patios
Pavers
Play Areas
Pond Construction
Ponds
Pools & Patios